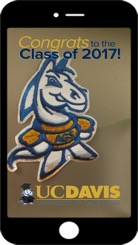 Snapchat Custom Geofilters
Snapchat Geofilters are creative, location-based overlays that capture where you are or what you're up to in a snap! Create your own and submit them in your chosen locations.
There are three stages in the custom Geofilter submission process:
Design your custom Geofilter design.
Map your geofence area and identify the time period for it to run.
Buy your Geofilter with Snapchat using your desktop/laptop browser (not available by mobile or in-app).
Design
Create your own design using Snapchat's Custom Geofilter Submission Guidelines. Designs that perform well are engaging, thought out, and have a purpose or a fun call-to-action. Please follow the policies and guidelines related to use of the UC Davis logos and athletics marks when approaching your designs. 
Map
Identifying where — and when — you want your Geofilter to appear is just as important as the design. Starting a Geofilter late, or too early, is not only ineffective — it's also a waste of money. That's because Snapchat bases the rate you pay on the size of your geofence area and the total amount of time you want the filter to be live. We recommend a week for design and planning, and at least one business week for the submission. 
Once you've considered your options carefully and made some decisions, it's time to submit your Geofilter.
Buy
On a desktop or laptop browser, go to Snapchat's on-demand Geofilter page and log in using your existing Snapchat account credentials. It doesn't have to be a work or official account, but you may encounter delays or other issues if you create a new account and immediately attempt to submit a custom Geofilter. Anyone with an existing Snapchat account and a credit card can complete the purchase.
Click "create now," and upload your custom Geofilter. Resize or zoom the screen layout for your Geofilter, give it a name and click next.
Select start and end dates and times, and click "next."
Click "draw fence," and set the location borders on the map in the area you've identified. It will turn green when an area is properly enclosed. Click "next."
Select "filter type" from the pull-down options, add your payment info, and click "submit."
Hooray — you've successfully submitted your custom Geofilter! You'll receive an email from Snapchat within one business day one the status of your submission.